Smart homes are becoming a thing now. But what makes a smart home smart? And what is a smart home exactly?
And what are the benefits associated with owning a smart home? You can consider this as an introduction to smart homes.
Everything you need to know about smart homes right here. From what a smart home is to how much smart home costs.
We also talk about smart home automation (domotics) and smart home systems.
What Is A Smart Home?
A smart home is just one of the several applications of the internet of things.
According to Wikipedia, the internet of things is the extension of internet connectivity into physical devices and everyday objects. And the application of this in your home makes it a smart home.
This brings us to what a smart home. A smart home is a home that has interconnected smart devices. And these smart devices can automate simple and complex tasks thereby making the home "smart".
All these made possible because the smart devices are connected thanks to the internet and a central system. And so they can communicate with each other when a command is issued.
And it doesn't stop there. Because internet services are faster than before you can create a smart home ecosystem. Where all your devices are connected.
As long as they are electronic and can connect to the internet.
Allowing you to control them from your smartphone, tablet, or computer. There are also smart home systems that have artificial intelligence and learn from your home routine.
To be honest, this makes your home look like something out of a sci-fi movie.
Examples of smart home devices are smart thermostats, smart lights, smart plugs, smart security cameras and smart doorbells. These are just a few.
Currently, they are so many smart appliances. Soon, you might even purchase one of these devices.
Understanding The Smart Home Concept
The smart home concept is all about making life easier and more manageable in your home. And this is done through the use of interconnected smart home devices. Which turns your home into a smart home.
We all know there have been a few incidents where you forgot to adjust the thermostat or lights resulting in an expensive utility bill. We have all been there.
Smart homes eliminate these kinds of unwanted possibilities.
By having smart devices in your home. You virtually create a smart home ecosystem which has central control access.
The light automatically turns on when it's dark. Smart doorbells send a notification when someone is at the door.
Smart refrigerators can detect the type of items, expiry date and can notify you when food needs replenishing. These are just a few examples of the smart home concept being realised.
You can then send commands or program the smart home devices to undertake a task at a certain time. But that's scratching the surface.
Because most home appliances are now smart. You can create a complex smart home that is fully automated.
What Is Smart Home Technology? How Does It Work?
Now that you understand the concept behind smart homes. The next thing is to understand how smart home technology works.
A basic understanding is important if you plan on turning your home into a smart home. Even so, it is still not enough.
Because in some cases you might have to call an expert to do the installation for you.
Smart home technology is all about linking the smart devices together where they can be controlled and monitored from a centralized point which can be your smartphone, computer or tablet.
Think of it as a hive mind. Where a queen ant sends out commands to other ants for them to carry it out.
In this case, the queen is the centralized point and the ants are the smart home devices.
Smart home devices are connected to a smart hub which is then connected to your smartphone. A command is sent from your smartphone to the smart hub.
The smart hub then receives the command and sends it to the smart home devices.
And all that makes it possible is the internet. It is through the internet that the smart devices, smart hub and smartphone can communicate with each other.
And for it to work flawlessly, you should always have a fast internet connection at all times.
Plus, you should make sure that every one of the devices is connected to the same internet network.
The best part about smart home technology is that you can control and monitor the smart devices remotely.
What Is A Smart Home System?
Without a smart home system, you can't make use of smart home technology. Because you need a point where all the devices are monitored and controlled.
An army is useless without its general.
And so the smart home system or smart hub serves as the general of the army of smart home devices or you could say the brain.
A command centre of sorts where you send commands from a centralized point i.e. your smartphone as explained earlier.
It's thanks to the smart home system that you're able to enjoy the convenience of owning a smart home.
Unfortunately, there are different types of smart home systems due to different manufacturers. This causes incompatibility and integration issues if you don't do your research well.
For smart home systems and devices, compatibility and integration are important.
Because without them there is no way the smart home devices can be integrated into the system and work together.
Below are the best smart home systems that are compatible with a lot of smart devices.
Samsung SmartThings Hub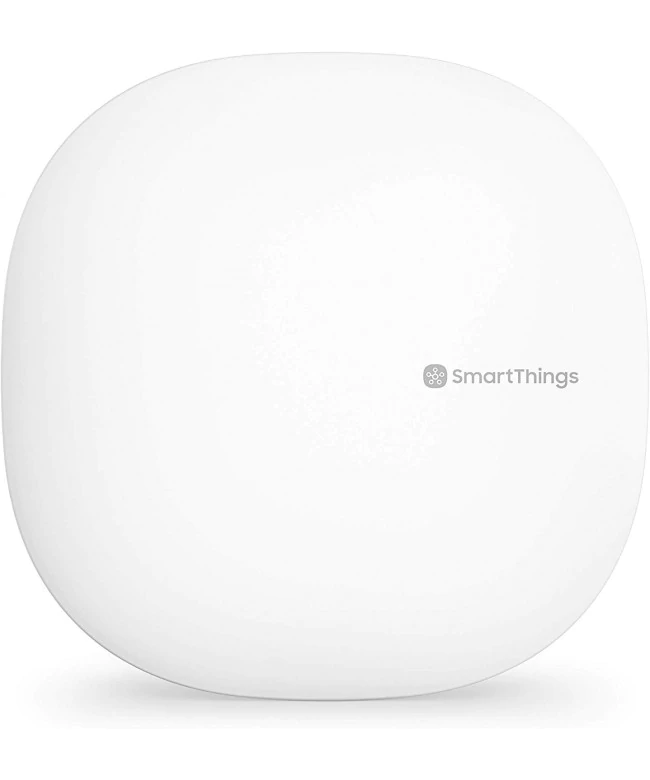 Made by Samsung themselves. The Samsung smartthings hub supports a wide range of smart devices. You can also teach it routines to automatically turn your smart devices on or off throughout the day.
It also features 24/7 monitoring that sends you app alerts if there's suspicious activity in your home.
WINK HUB 2
The Wink Hub 2 allows you to control all your smart home devices regardless of where you are through its app.
It's compatible and integrates with over 400 smart home devices including Nest, Philips, Ring, Ecobee, Arlo etc.
Echo Show (2nd Generation)
Echo Show (2nd Generation) is a smart hub made by Amazon. One of the few smart hubs with a display. This not only serves as a smart home system but also as an entertainment device.
It is compatible with numerous smart home devices. And the best part is it's voice-enabled. Just say, "Alexa, turn off living room lights" and the Echo Show will do just that.
How Does Smart Home Automation Work?
Smart home automation or domotics is simply programming your smart devices to undertake certain tasks instead of doing it yourself.
This is where making life easier and manageable comes in.
It is easier to manage a lot of household tasks and you save time in the long run. Because the tasks are done at a faster rate and don't require a lot of effort on your part.
Plus, you don't have to hire a maid to do all this.
Smart home automation is not limited to indoor home tasks but can be extended to your garden or patio.
For example, opening your garage door when you pull up or a plant watering kit that waters your plants at certain times.
Some smart home devices are equipped with artificial intelligence that observes your habits. The time you wake up, when you switch on the lights, when you vacuum the living room, restocking food items etc.
It observes all these and after a certain time will start to automate these tasks for you. All without you programming the devices or issuing commands. Isn't that great? And these are just a few examples.
And because these tasks are executed and done at the right time. It leads to better energy savings and a lower utility bill.
Moreover, because more appliances are becoming smart. You can automate the whole house.
Objective Of A Smart Home
The objective of smart homes is to be able to automate everything in the home and make life easier for the homeowner. That's what all smart homes are about.
Smart Home Features and Functions
There are a lot of features and functions that come with owning a smart home. But, they all fall under major groups.
And these groups are what can be automated. They are lightning, security, entertainment, comfort and convenience.
Lighting
More often than not lightning is the first thing homeowners automate and a popular feature of smart homes. It's the cheapest and easiest to start with when you want to turn your home into a smart home.
The lighting system can either be programmed, voice-controlled or activated through motion detectors.
For example, you might step into the living room and the lights turn on automatically. Or you might shout a command, "Alexa, turn on the lights".
You can also program the lights to turn on or off at certain times in the day. Some lights, for example, the Philips Hue  can be customized to show different colours. This adds even more customization depending on your mood or tastes.
Security and Safety
Another great feature and function of a smart home is security. Smart security cameras, smart doorbells, smart alarm systems and smart door locks improve the security and safety of your home.
You can view your home remotely to see what's going on thanks to the smart security camera. Some smart doorbells also come with cameras that automatically starts recording when someone is at the door.
Smart door locks allow you to lock and unlock your doors from anywhere. And have voice control features.
There are also security modes you can set when you are in or out of your home. This is particularly useful when you have taken a vacation or just leaving your home for a few hours.
By enabling the smart security mode, if there is an attempted robbery.
Your smart home can sound an alarm, send a notification alerting you of what's happening whiles recording what is going on.
There are also smart smoke detectors that inform you when it detects a small amount of carbon monoxide.
Entertainment
You might not believe it. But, a smart home takes your entertainment to a whole other level. Now with smart TVs and smart speakers.
You can stream your favourite movies and music. Subscription apps on smart TVs such as Netflix, Hulu, HBO NOW, etc. allow you to stream your favourite movies. Smart TVs and smart speakers also allow you to stream your favourite music from Spotify, SoundCloud, TuneIn etc.
Then there are the smart TVs and projectors that turn your home into a theatre.
Comfort
A home wouldn't be a home if it wasn't comfortable. And one of the things that makes a home comfortable is the temperature.
Thermostats allow you to regulate the temperature of your home. And there will be times where you forgot to regulate the temperature.
Smart thermostats can do this for you automatically. It's able to keep an eye on the weather and adjust the home temperature to comfortable levels.
The Nest smart thermostat   does this well. And it even has the artificial intelligence that is to learn what temperatures you like.
There are also smart air conditioners that you can remotely turn on or off. This allows you to put your home at a comfortable temperature before you even get home.
Convenience
There is nothing more convenient than automating most if not all tasks in your home. And the opening the garage door is one of the things you quickly like to automate.
The smart garage door openers have sensors or mobile apps that can automatically open the garage door when you pull up to your home.
There are also smart vacuum cleaners and mops that clean your home around the clock. This keeps your home clean at all times.
There are also smart coffee makers that you can program to make coffee for you at certain times. Most if not all are self-cleaning.
These are just a few of several tasks your smart home can do for you.
Why Is A Smart Home Needed? Benefits Of A Smart Home
Do you need to turn your home into a smart home? It depends entirely on you. If you are looking to save money, improve your security, comfort and convenience.
Then you can see why smart homes are needed. The benefits of a smart home a lot. Here are a few.
Utility bills have steadily been increasing throughout the years. And one mistake of leaving an electronic appliance on can cost you.
By automating a lot of tasks in the house. You can save money when it comes to utility bills.
Your smart devices execute tasks precisely leading to efficiency and savings. You can turn off all devices from your smartphone if not in use. Or the smart device can turn itself off if it has artificial intelligence.
Moreover, if you can view your family or home remotely if you are on a vacation. The security of the home is improved giving you peace of mind when you are away.
For the elderly, having a smart home is important, especially if they live alone. Although they might still need someone to look after them. It will still make things easier.
Since most of the tasks are automated. Add in smart home security that can detect accidents in the home. It becomes a safe environment for elders.
Although the smart home comes with a lot of benefits they certainly have their disadvantages. Which you can learn here.
How Much Does A Smart Home Cost?
Smart homes are cheaper than before but that does not mean they aren't expensive. The cost varies depending on how far and complex you want the home automation to be.
It can be anywhere from twenty dollars to thousands of dollars.
Not to mention you need a 24/7 fast internet connection. Plus, if you have no experience in the installation of a smart home system.
You have to get an expert. Which is another cost altogether. Here are rough estimates of smart home devices to give you a fair idea.
| | | |
| --- | --- | --- |
| Smart Home Device | Min (USD) | Max (USD) |
| Smart Bulbs | 9.99 | 99.99 |
| Smart Smoke Detector | 19.99 | 250.00 |
| Smart Robot Vacuum Cleaner | 139.99 | 999.00 |
| Smart Thermostat | 49.99 | 299.00 |
| Smart Hub | 19.99 | 299.00 |
| Smart TV | 109.99 | 3999.00 |
| Smart Speaker | 19.99 | 299.00 |
| Smart Security Camera | 24.99 | 199.00 |
| Smart Doorbell | 19.99 | 299.00 |
| Smart Doorlock | 49.99 | 299.00 |
| Total | 464.99 | 7041.99 |
*These are rough estimates, not absolutes since the pricing of the device depends entirely on the manufacturer and reseller.
It can cost you somewhere between USD464.99 – 7041.99. And those are just a few of the devices. Majority of them were left out. For example, the smart refrigerator, smart air-conditioner, smart coffee maker etc.
These are just rough estimates and depends on the price of the device, installation and how far you want to customize your home.
It's not cheap but it is worth it. Because it increases the property value of your home whiles making it easier and comfortable.
Are Smart Homes A Smart Idea?
Yes, smart homes are not only a smart idea but a good idea too. If you are looking to increase the comfort, security and convenience of your home.
Then turning your home into a smart home is not a bad idea at all.