Last updated on November 29th, 2020 at 09:23 pm
When buying a printer, there are a lot of things to consider. Some of them are simple and intuitive, but others are not.
Today we'll try to help you choose the right HP printer for your home, work or business. We present you the official OfficeJet vs Envy battle that has been a topic for quite some time now.
Overview – Envy vs OfficeJet
HP is pretty versatile when it comes to manufacturing, and they have created a large number of printers in belonging to different series, of which the most famous ones are the Envy and the OfficeJet. However, they are not as similar as you might think.
Printers of the "Envy" series are very focused and made for small office usage or home usage. This printer uses more pigmented black ink, and the colour ink is dye-based, which results in better photo printing and multimedia printing.
In this series, you'll easily find printers that can load photo paper or those that print borderless photos or documents.
On the other hand, the "OfficeJet" series focuses mostly on office use, but bigger and better. Hence the name OfficeJet.
You will find pigmented ink both for black and colour, and a bigger paper tray for loading and exporting. Some of the features you might find here will make it easier to do automatic feeding and both-sided scanning.
Although both series provide two-sided printing, the OfficeJet models are the ones to use if you need to fax papers every now and then.
According to your habits and preferences, you might be able to decide which series is for you right away.
Product Models Showdown
To entirely paint the HP OfficeJet vs Envy battle, we have to compare some similar devices and see which ones seem to be more focused on what you're looking for.
HP Envy 5055 vs HP OfficeJet 3830
The first HP Envy vs HP OfficeJet comparison we have is focused on these two budget models. First and foremost, both of these are space savers, but the HP Envy 5055 is smaller out of the two.
If this is a concern to you, make sure to keep this in mind. The HP OfficeJet 3830 is heavier, but HP Envy 5055 has a sleeker design.
The build quality is very similar. You get the usual black finish HP likes to dress their products in. As for function, keep in mind that the HP OfficeJet can print, copy, scan, and fax.
The copy resolution is only 600 x 300 dpi, and the scanning one is 1200 x 1200 dpi. This might require a workaround, as you'll get better quality with scanning and printing, rather than copying.
The Envy model scans and prints, but it cannot fax. The resolutions these printers work with are the same, but the HP Envy printer also supports automatic duplex printing.
Both printers have a USB 2.0 port, but neither has an Ethernet port. You can still use them with Wi-Fi, though.
The OfficeJet has a smaller input tray. You work with 60 papers and 24 papers in the output space, while the Envy printer uses 100 sheets, and the output is 25 sheets.
Something that might be a deal-breaker is the fact that the HP Envy does not have ADF (automatic document feeder).
As for print quality, both printers will print crisp text and sharp images. None of them is perfect in terms of colour accuracy, but the OfficeJet is slower, and the Envy model supports duplex printing.
In terms of ink, the Envy printer requires replacements more frequently. So, unless you need to fax, HP Envy 5055 is better overall.
HP Envy 5055 vs HP OfficeJet 5255
Our next comparison is between these two printers, and we'll see, as the OfficeJet model is an upgraded one, that this time it beats the Envy series.
The OfficeJet printer is a simple, compact printer with excellent scanning options. It's easy to connect. It has a monochrome touchscreen display, and although it doesn't have a premium cartridge system, it is excellent for printing photographs.
It has an automatic document feeder, but it has noo duplex scanning options.
The colour accuracy is perfect for the price point and combined with average printing speed, and the price is pretty justified.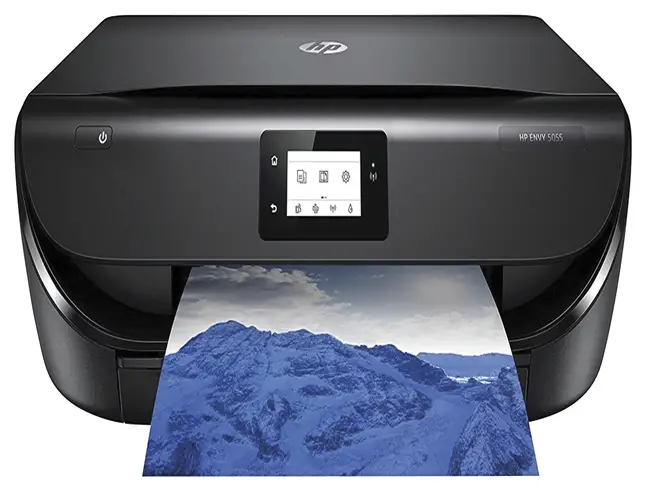 As for the Envy model, this is a family-use printer that can get pretty expensive pretty fast if you want to print a lot of documents.
The printing is pretty slow, and the scanner is a flatbed type, but the colour accuracy is excellent, and you can use it with the HP Smart mobile app.
All in all, the OfficeJet has better build quality, it has an automatic document feeder, it uses up the ink far better than the Envy model, and the only aspect where Envy wins is photo printing.
HP Envy 7858 vs HP OfficeJet 5258
The last comparison we'll revisit is another one where the Envy model confidently takes the lead. Not only is it much better with photo printing and slightly better at B&W printing, but it is also far cheaper when you do the math per paper.
The ENVY model is a great family printer that also does an excellent job for smaller businesses. It has attractive scanning features, it prints phenomenal photos, and it is easy to connect to various devices.
Although the ink is not the cheapest and it might be slow, the price of the printer itself justifies possible issues.
The design of the Envy 7858 is not a breakthrough but is it relatively compact. The display screen is rather small, but the options of connectivity are great!
The OfficeJet model is compact and straightforward, it has excellent scanning features, and it works as a photo printer for casual use. The cartridges are expensive, the printing is slow, and the quality is not satisfactory for anything other than personal use.
To conclude, the OfficeJet printer wins only in the build quality category, whiles the HP Envy takes the lead in all other aspects of this comparison.
Final Thoughts
Although the HP OfficeJet vs Envy discussion doesn't end here. We hope you got a pretty good idea about the specifications of these printers. And you found the right one for yourself and your use.
Please don't buy a printer solely on the idea of which series it fits in, as each printer has different specifications.
Good luck with your buying journey.